Prominent Features of MS Excel to vCard Converter

Convert Excel File Contacts to VCF
The software export contacts information from Excel XLS, XLSX, and CSV file to vCard. A preview of all contacts saved in spreadsheet with respective fields will be shown on within software pane.

Map Excel Contact Fields with vCard
The software gives option to map contact attributes of Excel file with vCard. All fields in selected spreadsheet can be mapped with suitable attribute of the vCard using this address book converter.

Create Single/Multiple VCF Files
As per user's choice, the software saves output in single or multiple vCard. There is provision in the tool to generate single VCF file for multiple contacts or a vCard for every contact can be created.

Export Contact with Empty Mail Address
Even if the contact field for email address is blank, the software export other contact fields into VCF file. For that, 'Allow Empty Email Address to be Imported' option should be enabled in the tool.
Screenshots of Excel to vCard Converter
Download Demo of Excel to VCF Conversion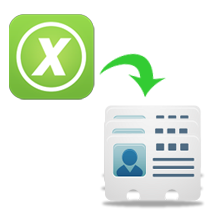 A Complete Solution to Copy Contacts from Excel to vCard VCF File

Convert Excel Spreadsheet Contacts into vCard 2.1 or 3.0

effectively
Gives Preview of all Contacts within Software Pane after Adding Excel File

Map Contact Fields with vCard

for Better Management of Output
The tool works perfectly well on all Windows Operating Systems
Open and access VCF file in Outlook, Lotus Notes, Apple Mail, iCould, Android, Blackberry, iPhone, Gmail, Windows Contacts etc.
Frequently Asked Questions
What is the benefit of "Attributes Mapping" option in the tool?
This option will help to manage contacts in vCard file as they are in Excel file. The contact details will be saved in VCF according to the attributes mapping done while conversion. For example: You can map "First Name" attribute of Excel with "Full Name" in vCard.
I want individual vCard for every contact. Where is the option in the tool for this?
By default, the software will create a vCard for every contact. If single vCard for all contacts has to be generated, then this option has to be manually enabled in the tool.
Will this tool convert Excel file to vCard on Windows 8?
Yes, the software supports all versions of Windows Operating System that includes Windows8.
Check Out Our Customers Review...
Speed and accuracy of this tool are the factors worth investing. I have personal license of the tool and am extremely happy with the help it offers in saving contacts into vCard. Now sharing contact details is so easy."

— Alexandra, Norway
I had around 900 contacts in XLSX file and this tool copied the all to vCard. Excel to vCard Converter is a huge support for sharing contacts with new employees in the organization. Saving contacts into single vCard is an advantage.

— Nancie, Austria