10 Best MBOX Viewer Software – Reviewed by IT Experts
Are you also having trouble viewing your MBOX files? Well, there is no need to worry! Now, accessing and viewing MBOX files generated by various email clients has become easier than ever before. We will suggest the Best MBOX viewer tool.
This is a common issue among people no matter whether they belong to a forensic community or are law enforcement officers, trying to view their shreds of evidence from their large MBOX files. "MBOX" is the mailbox that has the ability to store a collection of email data just in a single file. It stores the emails in a chained format and organizes them.
But do you know that all the email messages in MBOX files are stored in a special text format that is not accessible with every email program? In this case, we need particular software to take an output of that data. Today, In this article we will be discussing the Top 10 Tools to view MBOX files with their specialties and features to view emails effortlessly and without wasting your time.
List Of Top 10 MBOX Viewer Tool
Let's understand specifications of these tools and find the best one from this list.
#1 SysTools MBOX Viewer
SysTools MBOX Viewer Software stands out as the number one choice and the Best Mbox Viewer Tool due to its ability to view MBOX files along with attachments, multiple view modes, and a user-friendly interface. This tool allows users to effortlessly view and read MBOX/MBX/MBS files without the need for an email client installation.
It offers various view modes, such as Hex View, RTF View, Attachments View, and Properties View, which greatly facilitate the MBOX file reading experience. Additionally, the software boasts an impressive and user-friendly interface.
Features:
Allows seamless viewing of MBOX emails and attachments.
Offers various preview modes (Hex, HTML, RTF, Header, etc.).
Supports previewing MBX and MBS files from different email clients (Eudora, Opera Mail, etc.).
Preserves folder hierarchy in MBOX files.
File mode enables browsing and viewing of individual MBOX/MBX/MBS files.
Performs comprehensive analysis of MBOX emails for forensic purposes.
Learn more about this tool by visiting SysTools MBOX Viewer official page.
#2 BitRecover MBOX Reader
The second Best MBOX viewer tool is designed by BitRecover IT professionals with an amazing, easy-to-use interface. This MBOX reader will easily view your file making an extra-efforts even for the corrupted or orphaned MBOX files.
Features:
View multiple MBOX files using the MBOX Reader tool.
Portable MBOX Viewer, no email client installation required.
Preview attachments just with a single click with this software.
MBOX email viewer maintains an internal folder hierarchy.
View email header, email body, email footer of MBOX file.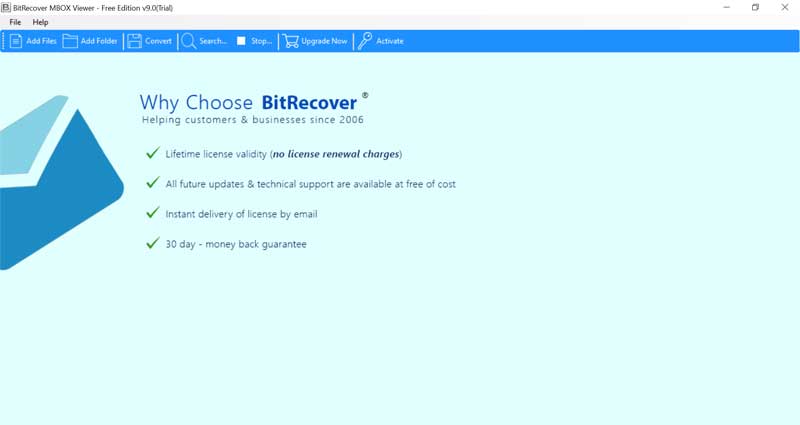 #3 RecoveryTools MBOX File Viewer
If you want to obtain your MBOX files directly from Mail servers and Email clients then this software is for you. This tool comes with compatible and handy features, let's have a look at them:
Features:
Easily view MBOX files into the software panel.
Add multiple MBOX files to the software simultaneously.
Allows to read MBOX file emails with all associated attributes.
Utilize search filters to locate specific emails and messages within MBOX files.
Compatible with MBOX files from various clients such as Thunderbird and Mac Mail.
#4 4n6 MBOX Viewer
4n6 (forensic) Just like its creative name, the software works very creatively. This is at fourth number in the list of best MBOX viewer tools and is the top choice for Windows users seeking to read, view, and analyze MBOX data. This tool is specifically designed to effortlessly access the content of MBOX files.
Features:
Software enable users to view MBOX files in bulk
Offers comprehensive access to data items and email elements
Views files in the form of Content, Message Header, Hex, and Raw Message
It is Free MBOX viewer tool for Windows 11, 10, 8 version
Analyze email header with complete information in readable form.
#5 Corbett MBOX Reader
The advanced and expert way to view MBOX files smoothly, Corbett is the 5th best MOX viewer tool. If you are researching to view MBOX in multiple preview modes with Metadata then you can utilize this application.
Features:
Allows to view orphaned and damaged MBOX file emails
Read MBOX file emails header, body, and footer
5 View modes: Content, Properties, Message Header, Hex View, Raw Message.
100% secured tool with compatibility of all Windows editions.
#6 FreeViewer MBOX Reader
The Free MBOX viewer is a powerful tool for accessing and reading MBOX files on Windows and Mac. It supports over 20 email applications and enables efficient viewing and analysis of MBOX files. Additionally, it can also handle corrupted MBOX files from both Windows and Mac email clients.
Features:
This tool helps to View MBOX emails and associated contacts and calendar information for free.
It allows access to MBOX files and their email properties without relying on any specific email client.
This MBOX viewer supports MBOX files from both Windows and Mac email clients.
It has no limitations imposed on reading MBOX files for forensic analysis.
#7 PCVITA MBOX File Viewer
Introducing the seventh software which will view each and every email with no size restrictions. By using this tool, one can easily access the MBOX files and make a preview along with the attachments such as images, docs, videos, ppt, etc.
Features:
View MBOX file emails, contacts, calendars, task, journals, etc.
Read MBOX file emails without any email client on Windows OS
Preview MBOX files data in various preview modes
Allows to view large, corrupted, and damaged MBOX files
#8 Kernel MBOX Viewer
One of the best tools that can preview your MBOX of email clients without needing any installation. This viewer consists of more than 20 email clients and is a highly compatible software that you can use in any version of Windows.
Features:
User friendly Secured and easy to use interface
Contains options like search and apply filters
View email of any size with attachments and address book
#9 Shoviv MBOX File Viewer
This software is compatible with all email applications that produce and access MBOX files. It not only enables users to recover data from damaged MBOX files but also provides access to view MBOX files. The following are the key features of this utility:
Features:
Open MBOX files with all associated elements.
Support for MBOX files from any email application.
User-friendly interface for opening MBOX files.
View multiple MBOX files sequentially without issues.
#10 Aryson MBOX Reader
Whether you want to read, view, or save your MBOX files and include your data attachments, this website provides the tool that fits your needs.
Features:
View MBOX file emails with all associated attributes
Read MBOX file without any email application installation
View MBOX file with same folder order and data integrity 
Conclusion
Accessing and viewing MBOX files has become easier with the availability of various advanced and the best MBOX viewer tools. These tools offer a range of features and functionalities to effortlessly read MBOX files, making it convenient for individuals from different fields such as forensic communities, law enforcement officers, or general users.
Whether it's seamless viewing, search filters, or maintaining folder hierarchy, these tools provide efficient solutions for accessing and managing MBOX files. With the availability of these top-notch options, users can now overcome the challenges associated with viewing MBOX files and enhance their productivity in handling email data.