10 Best PST File Viewer Software for All Windows OS Users
Today in this article we will explore the features of the PST viewer tool! In today's digital age, our lives are intertwined with emails, filled with attachments, important documents, and cherished conversations. But what happens when you can't access those precious files locked away in a PST format?
That's where PST file readers come to the rescue, offering a gateway to your past, helping you regain access to your invaluable emails, and reliving the emotions and memories they hold. Keep reading the article to explore the List of Top 10 Tools to view PST Files one by one, empowering you to unlock the stories within your emails.
List of Top 10 PST Viewer Tools
Let's understand feature of all mentioned tools in detail:
#1 SysTool PST File Viewer
SysTools PST viewer is at the top of the list as this software has top-notch features specially made for your ease. It stands out as the ultimate tool for effortlessly viewing PST files. Its exceptional features and user-friendly interface with higher security make it a cut above the rest. It allows you to navigate through emails, attachments, contacts, and other mailbox items effortlessly. Let's discuss some of the amazing features:
Features:
Outlook PST viewer provides a complete preview of Outlook emails, contacts, calendars, tasks, and more.
It allows users to view PST emails with their attachments and offers two scanning modes: quick scan and advanced scan, ensuring a thorough examination of PST files.
There are no size restrictions, allowing seamless browsing of PST files of any size.
PST reader efficiently previews data items from multiple PST files simultaneously and can even view .bak files of Scanpst.exe without requiring MS Outlook installation.
It can browse and view data from damaged PST files as well.
It provides eight preview modes (Normal Mail View, Hex, Properties, Message Header, MIME, HTML, RTF, Attachments)
Visit official page: SysTools PST Viewer
#2 BitRecover Outlook PST Reader
The second tool in the list is BitRecover PST file viewer. It is an easy-to-use tool for viewing Outlook PST files. You can open and read PST files without needing Microsoft Outlook. It has a simple interface to access emails, contacts, calendars, and attachments. It's perfect for analyzing and viewing PST files.
Features:
Allows to Read PST files with attachments on both Windows and Mac OS.
PST file reader ensure to maintain email formatting, folder order, and data integrity.
The portable PST viewer is capable of reading scanned files of corrupted Outlook emails.
No requirement to install Microsoft Outlook in order to view Outlook PST files.
For more details visit official page: Bitrecover PST Viewer
#3 RecoveryTools PST Viewer Tool
The third on this list is RecoveryTool for Outlook PST viewer, which is a tool for viewing Outlook PST files. You can use it to evaluate your chances of viewing corrupted email folders in Microsoft Outlook.
Features:
Access PST files without using Outlook, regardless of their condition (healthy or corrupted).
Browse through PST files and locate specific emails through search functionality.
Scan PST files, retrieve email attachments, and recover them.
View PST files and restore various items such as notes, journals, tasks, calendars, messages, and contacts.
Checkout the official page: RecoveryTools PST Viewer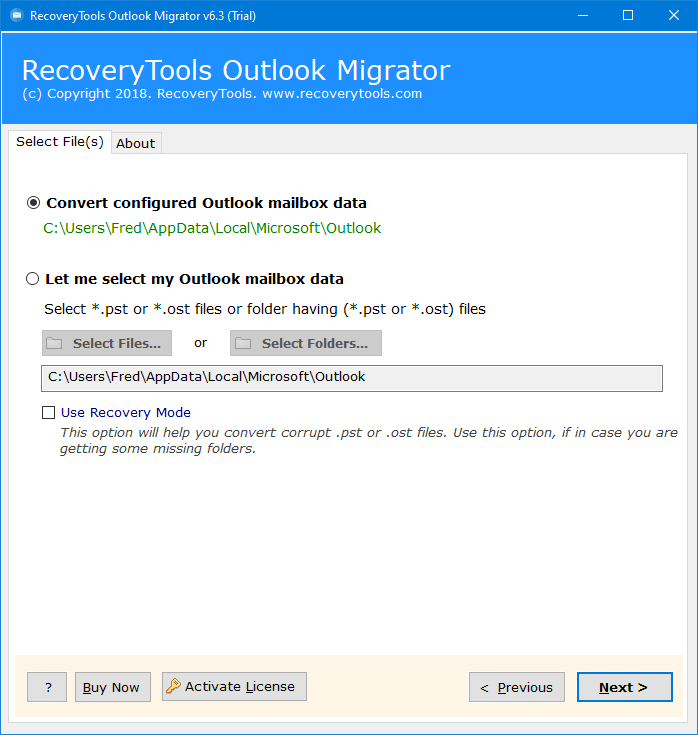 #4 4n6 Outlook PST Viewer
4n6 PST viewer software stands out as the fourth choice among IT users due to its unmatched reliability and exceptional ratings. With its intuitive graphical user interface, navigating through this application becomes a breeze. Consequently, effortlessly accessing an unlimited number of PST files becomes a reality with this program.
Features:
Easily access emails, attachments, contacts, calendar entries, notes, and tasks.
Automatically identify and retrieve data from the Outlook profiles set up on the system.
View Outlook content, including headers, raw messages, hex view, and properties.
Utilize advanced search features to efficiently locate evidence within individual emails as well as across multiple emails.
#5 Corbett PST File Viewer
Corbett Outlook PST Viewer is a high-speed and effective tool that enables seamless preview of Outlook PST files, preserving all data attributes. You can try the free version of the PST viewer software to assess its performance.
Features:
Outlook PST reader includes viewing of emails, contacts, calendars, attachments, journals, and more.
PST viewer enables viewing in various preview modes: Content, Message Header, Hex View, Raw Message.
Allows to view emails even from damaged and corrupted PST files.
View all email items into the software panel without Outlook installation.
#6 FreeViewer PST File Viewer
It stands at the 6th position in the list as it is also a reliable and user-friendly tool that allows you to efficiently handle your archive PST files. It's designed to be compatible with all Windows operating systems, making it accessible to a wide range of users. With this Software, you can easily browse through important PST files. This software provides a straightforward solution for accessing and organizing your email data.
Feature:
Allows getting a proper preview of Outlook PST of Emails along with the attachments.
Browse and View Outlook PST of all emails in a very short time.
A bunch of options to view the required PST files.
Accessible with all versions of Windows.
#7 PCVITA Outlook PST Viewer
PCVITA PST viewer is a feature-rich tool designed to provide a seamless viewing experience for PST files. This PST data reader tool helps you to read emails, Emails, Contacts, Calendars, Notes, Tasks, and Journals effortlessly. It's robust performance and comprehensive features make it a reliable choice for managing and accessing PST files efficiently.
Features:
Allows to view and read emails from Outlook PST files and their attachments.
No restrictions on the size of PST files for scanning and viewing Outlook data.
Ability to view and read .bak files generated by Scanpst.exe without requiring Outlook.
Offers two scanning modes for PST files: Quick Scan and Advance Scan.
#8 Stellar PST Viewer
Eighth in the list, Stellar PST Viewer for Outlook is a no-cost utility that scans damaged Outlook PST files and allows you to see all the contents of your mailbox, including emails, contacts, journals, calendars, and tasks. With this free tool, you can even retrieve emails from severely corrupted PST files and save them individually.
Features:
Scan a damaged PST file and access the emails within.
Choose or locate a PST file on your computer.
Maintains the original structure of Outlook folders.
Open and view various items such as emails, contacts, calendars, tasks, journal entries, and notes.
#9 Shoviv Outlook PST Viewer
Shoviv PST Viewer is a software solution that allows you to easily view PST files, whether they are in good condition or damaged, corrupt, or inaccessible. If you're unable to open a PST file due to an error, this tool enables you to effortlessly view its contents.
Features:
The Tool enables you to examine the contents of PST files, including emails, calendars, contacts, and notes.
It grants you the ability to inspect the entirety of both damaged and intact PST files.
The software swiftly scans the PST files, allowing for immediate viewing of the information.
Once the scanning process is completed, it permits you to access and view the deleted items within the PST files.
#10 Aryson PST File Opener
A no-cost tool for accessing PST files without Outlook. This software lets users preview various Outlook items such as emails, contacts, calendars, tasks, and journals.
Features:
The software enables users to access and read both individual and multiple PST files.
There are no restrictions on the file size of Outlook data files (.pst) for opening or reading.
It displays all mailbox folders contained within PST files, including Inbox, Drafts, Sent Items, Deleted Items, Archive, Calendar, and Contacts, as well as any newly created or imported folders.
Conclusion
The best PST viewer tool plays a crucial role in helping users access and view their valuable email files stored in PST format. These tools offer a convenient and user-friendly way to navigate through emails, attachments, contacts, calendars, and other mailbox items.
Whether you need to view PST files of any size, access damaged or corrupted Outlook PST files, or even analyze and convert PST files to other formats, there are several reliable options available. With the 10 best PST reader mentioned above in this article, you can unlock the stories within your emails and regain control over your important data.