What is Email Link Analysis? A Step-By-Step Guide
Email link analysis refers to the technique that analyzes emails to visualize, analyze, and investigate the wicked communication done between the suspects. 
In criminal investigations, the investigators use link analysis software to perform the analysis process for digital purposes. link analysis provides a powerful method that let forensic analyst understand what is exactly happening very quickly. 
Now let us understand this from a Digital Forensics point of view.
Also Read Email Header Forensics– Analysis of Email Artifacts
Email Link Analysis in Digital Forensics
It is the process of mapping the relationships between different email addresses associated with an individual or group. This can help investigators identify the connections between various email addresses.
Also, it establishes a trail of communication and determines who is communicating with whom. 
This is also helpful in identifying co-partners, or third-party individuals who may have played a part in the crime. 
In digital forensics, email link analysis helps examiners to create a visual representation of communication between the people involved in the crime. These details include the email addresses of the sender and recipient, the date and time of the email, and the subject line. The analyst examines the data and will find the bottlenecks including all possible faulty areas and patch them quickly. The main  motives of this analysis are:
1. Look for new patterns of interest in the case
2. Identify matches for known patterns of interest between the linked objects. 
3. Investigators can trace the origins of phishing attacks or any other cyberattacks.
4. Identify potential suspects and accomplices, and also gather valuable evidence for prosecution.
After looking at this it is clearly stated that "Email Link Analysis helps examiners or investigators to create a visual picture of the communications between those who are involved in criminal activities". Now, let us understand how it is performed while doing a digital forensic investigation. 
How to Perform It in Digital Forensic Investigations
There are many problems faced by Law enforcement agencies and intelligence analysts in identifying the relationship between the specific group of entities in the current network. 
In addition, this task is time-consuming and requires a lot of effort if done without any link analysis software. Thus, to do this effectively, analysts can use advanced Email Examiner Software which supports email link analysis. 
This is the one-stop solution while doing email forensics. With this automated solution, forensic investigators/examiners can investigate email fraud along with other email-related crimes. 
Professional Steps to Perform Email Link Analysis
To perform email link analysis by using this Email Forensics Tool, follow the steps mentioned below. 
Step 1. Search Option
This software has an inbuilt feature of advanced search options. With this feature, you can simply search for desired keywords. Follow the steps for search options:
Firstly, run the software in your system.

Enter the desired keyword which you want to search in the search tab section. 

All your emails related to that particular keyword will automatically be listed. ( you can see in the screenshot below)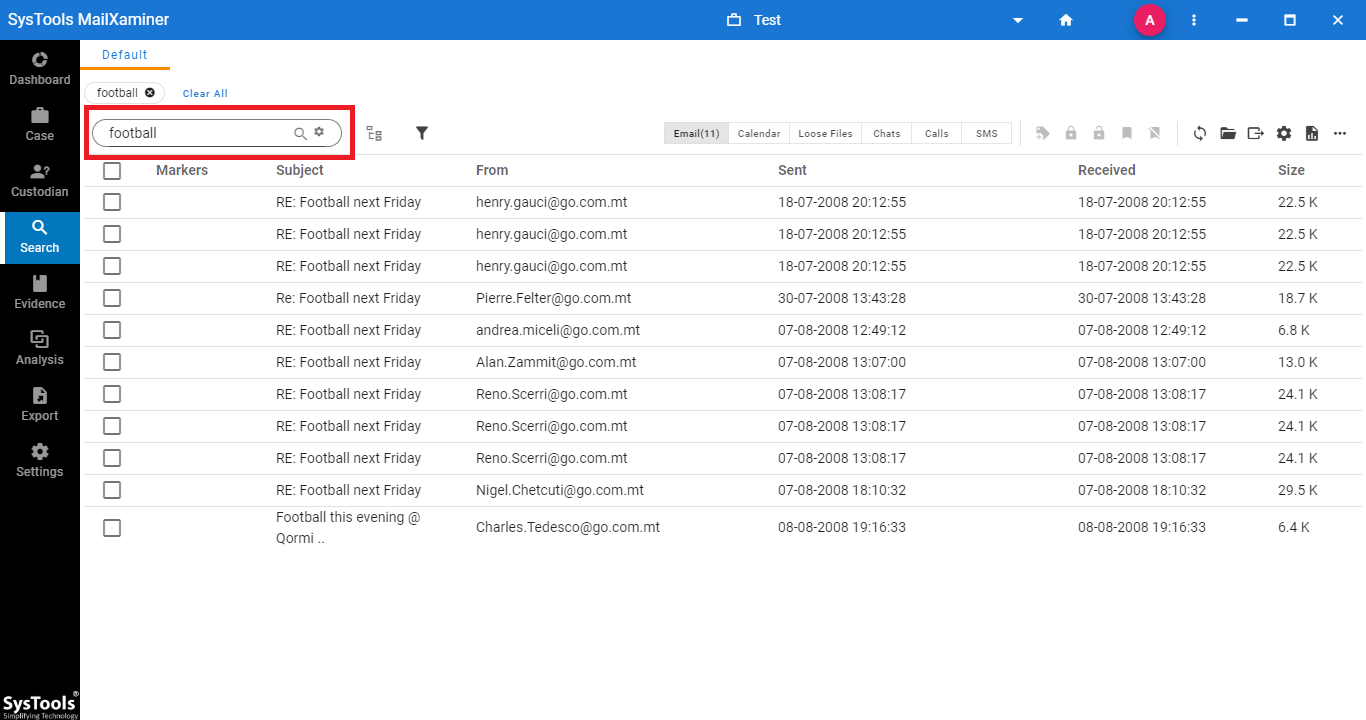 Step 2. Open Analysis Tab
To perform link analysis in a criminal investigation, use the Analysis tab. Now, just simply choose the entities from the provided list. 
This tool identifies Persons, IP Addresses, and Domains to perform email link analysis.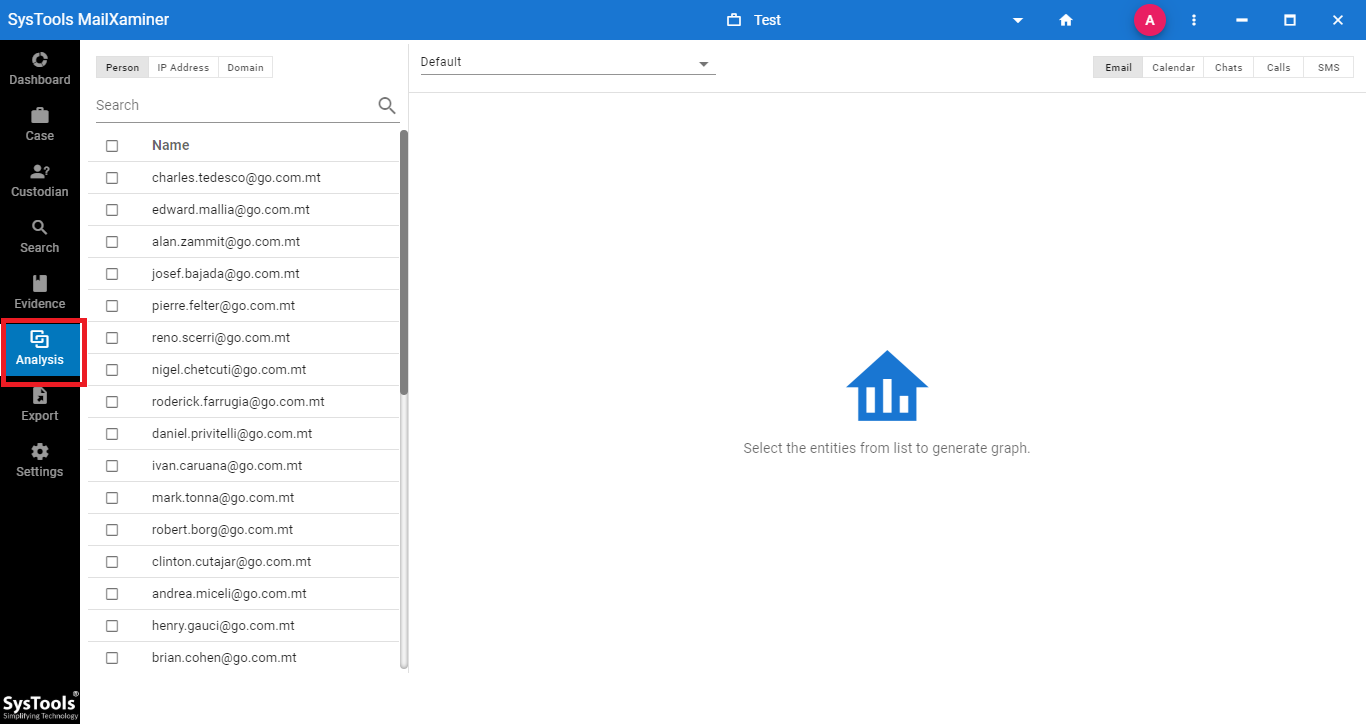 Step 3. Select Email Address
After that, Tick the box that requires Email addresses, IP addresses, and Domains obtained from the keyword search. 
Then, just click on the generate button to find the existing relationship between selected email addresses.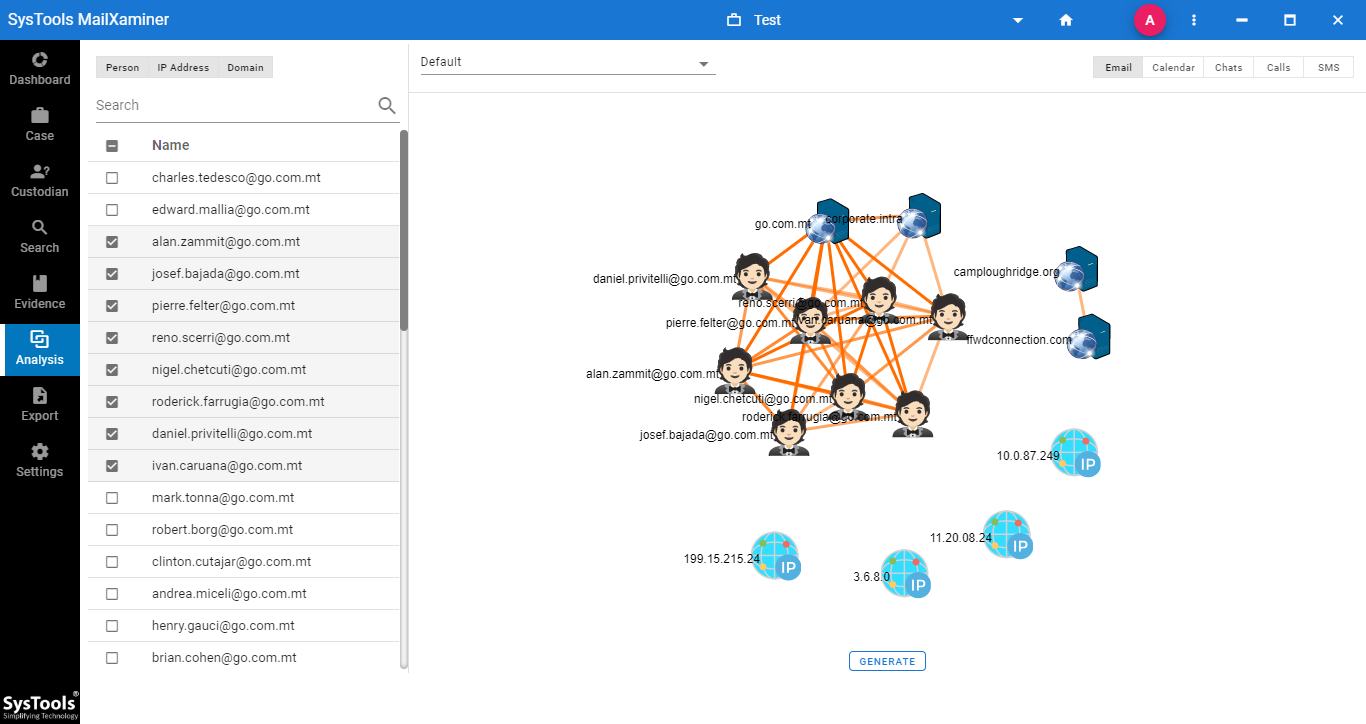 Step 4. View the Relationship Between The Users
This forensic analysis advanced tool has a capability that displays the relationship between the selected email addresses through graphical representation. 
This also provides the option to perform link analysis through emails, calendars, Chats, SMS, and Calls options to find out the details through which the suspects are related.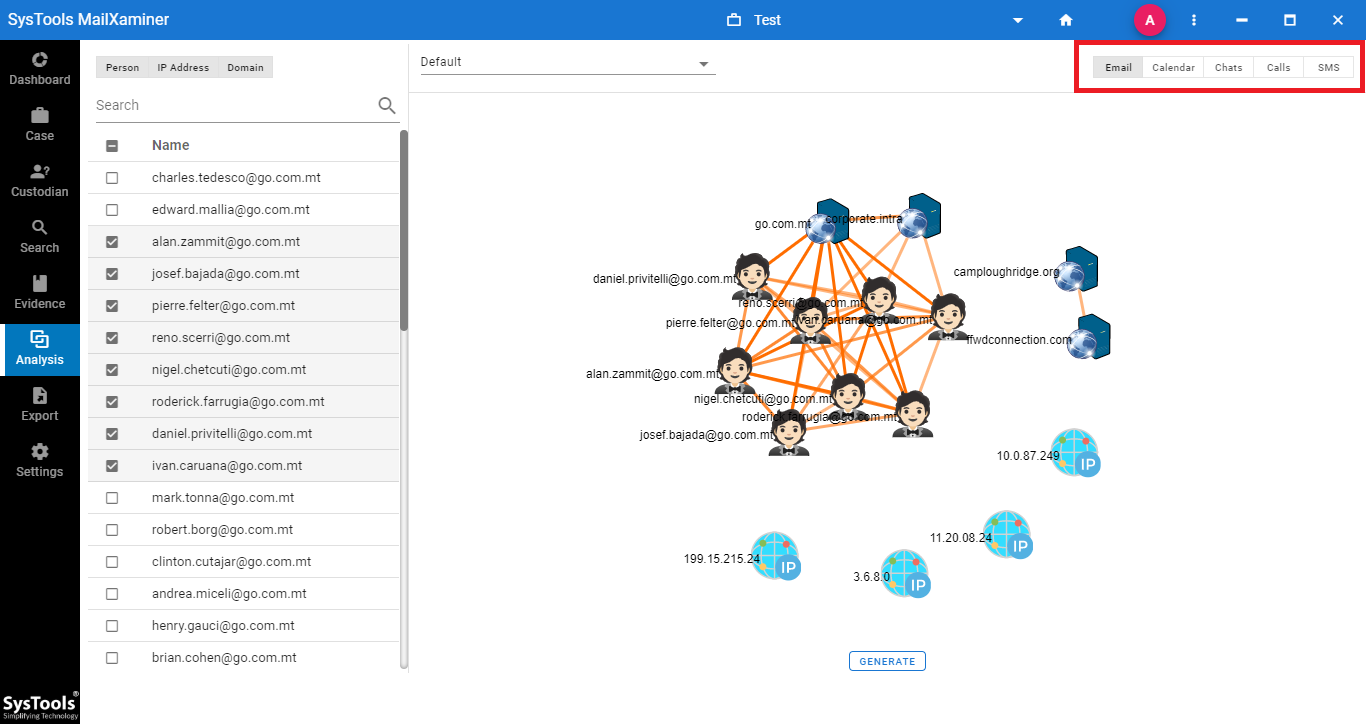 Step 5. View the Number Of Exchanged Emails Between Two Entities
This email link analysis tool has an advanced feature that also allows viewing the number of exchanged emails between the two entities. To view this, just click on the link between the respective entities.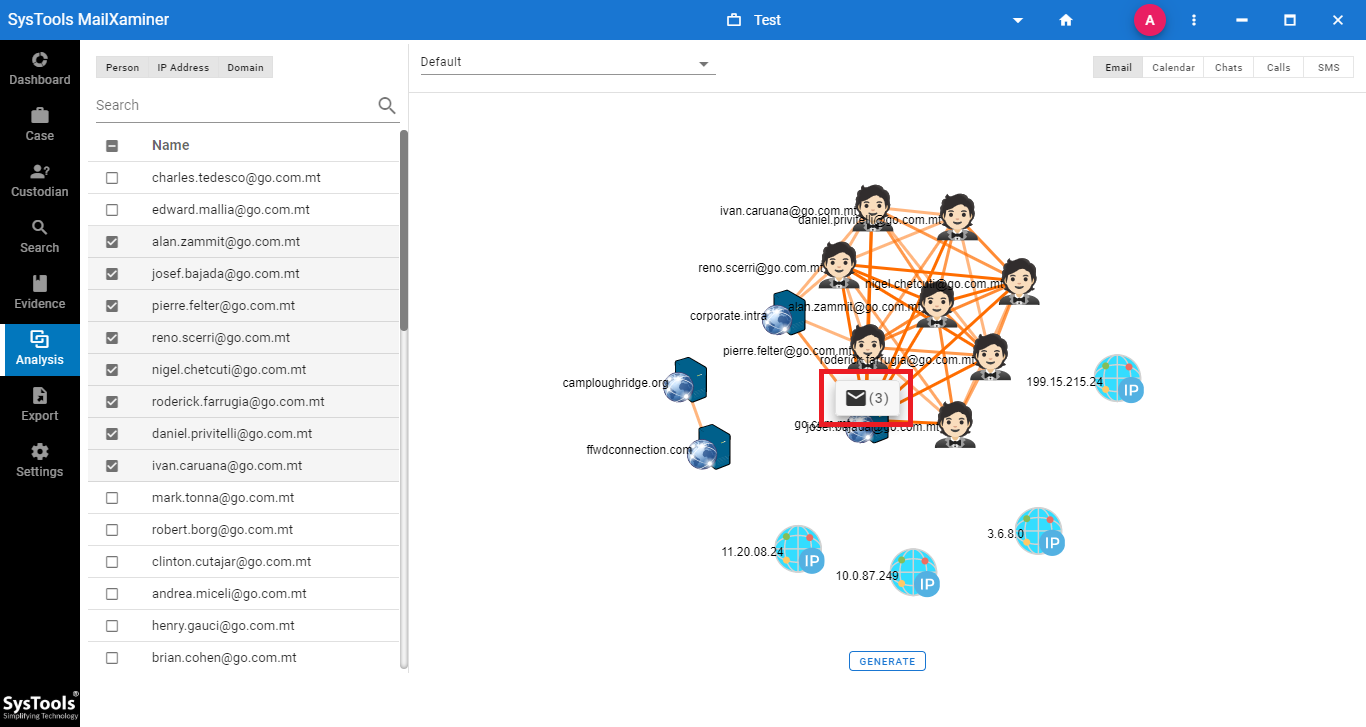 This expert's proven solution is designed in such a way that it can provide investigators to identify and analyze email links and their associated metadata. This includes the source and destination of the link. To know more about this advanced software you can contact the expert's team. 
Concluding Words
Email link analysis is a crucial component of digital forensics investigations, especially in cases of cybercrime involving various cyber attacks or forms of fraud such as phishing attacks, etc. Therefore, this is the best technique in digital forensic investigations. With the right tool with inbuilt advanced digital forensic facilities in, forensic analysts can uncover the hidden clues and insights that can help bring cybercriminals to justice and protect individuals and organizations from future crimes.  
Also Read EML file forensics and how it facilitates investigations